Description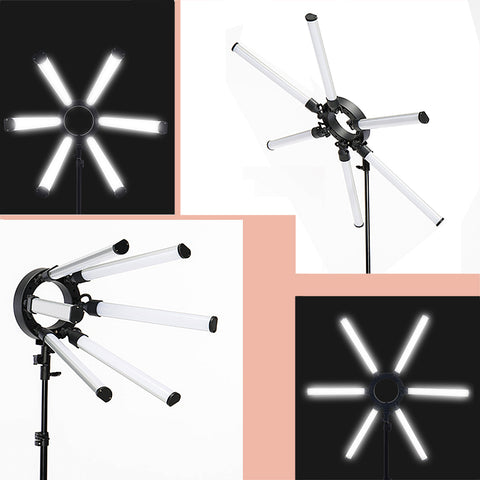 Feature:
1.digital photography light takes the circle as the center outward radiation design. showing sun-shaped shadow. It is controlled by a microcomputer chip, digital tube display.
2. And it is made up of 6 tubes of high power's aluminum. The color temperature is from 3200K to 5600K,it can adjust continuously, The characteristic of stable color temperature. high CRI and long lifetime. The Output power is a step-less adjustment here that has a bull-in temperature protection circuit bill-in automatic cooling system.
3. This light provides the high quality and power continuous source for real shed base, television, beauty and makeup, traditional film photography, digital photography and photographic teaching and other fields.
Specification:
Input power:24V6A
Output power:6*20W 120W
Color temperature:3200K-5600K
CRI:>95
Dimensions:48cm*25cm*22cm
Weight:2.5kg

Operation instruction
1. After assembling the eyes light, insert the power adapter light DC port, connect to alternating current.
2. Push the switch (12), the signal of P Ware all remitting red light, and into the function to adjust the light, the digital screen (18) display from 1.0to 6.0
3. Press Multifunction adjustment knob(6) into the color temperature mode and K signal is lighting, digital screen(23) display 3200K- 5600K

Attention
please do not use the adaptor and batteries together.
please do not put the light into over-heat and over-moisture place.
please do not touch the light, and do not let the device be exposed to rain or moisture, to avoid circuit problem.
Attentions of the battery
does not throw the batteries into the fire or over-heat environment When the energy is using up, the battery is easy to leak liquid, please do not work a long time, to avoid the light damage

Package included:
1 x 6 tubes LED lamp
1 x Phone Holder
1 x Power line
1 x Power Adapter
1 x User Manual
1 x handbag (Battery, camera and other accessories are not included)

Payment & Security
Your payment information is processed securely. We do not store credit card details nor have access to your credit card information.