I believe you have probably heard of the LED ring light. If you haven't, let us begin by defining them. Ring lights are lighting devices that are mostly applicable in macro, portrait and fashion photography, and videography. The medical facet initially used ring lights, way before their application in photography.
The concept came about around at around 1952 in dental photography. It started with a ring flash, which applies the same idea as a ring light. The ring light is an advancement of the ring flash. Later, photographers and videographers found out they were useful in their field. When using a LED ring light, it is essential to ensure you have access to electricity since most of them are usually AC powered.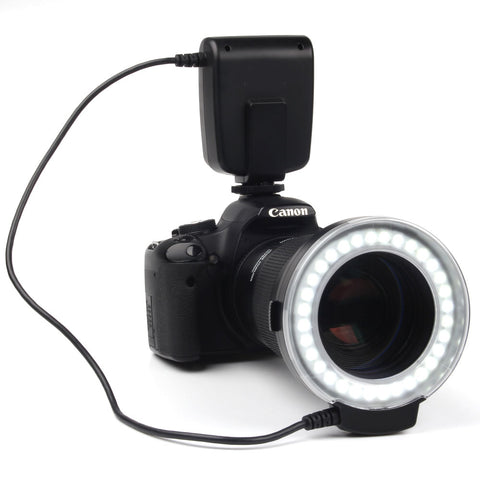 Why You Need a LED Ring Light?
First of all, if you are indecisive when it comes to purchasing ring lights, I would like to clear your doubts. Have you ever seen those beautiful photos and videos that vloggers, YouTubers, and other professionals produce? Would you like to create such images? Well, I know this question is rhetorical since everyone wants to capture a precise moment in life.
Most of these professionals use the LED ring light with stand to produce such images. They make a beautiful, therapeutic image of a macro organism or selfie, almost everything they find interesting. The LED ring light bring out the best in all these. There are innumerable uses of LED ring lights. They are applicable in many areas in photography and videography. These include
Macro photography is extreme close-up photography of tiny subjects. It captures images that are more substantial than the usual size in life. LED ring lights allow photographers to capture this macro life to produce incredible photos and videos. The beauty of this is fantastic!
Photographers choose to exchange standard white bulbs with bulbs of different colors. Some opt to apply the colored gel on different parts of the LED ring light for camera to create colorful effects.
LED ring lights help to produce an enticing and professional film in videography. Videographers achieve this through the halo shadow that the ring lights provide. The shadow helps to outline the subject of the video or photograph.
A LED ring light especially comes in handy when daylight is unavailable. Most ring lights can produce sunlight with a color rating of 54000k, which make it suitable for makeup application.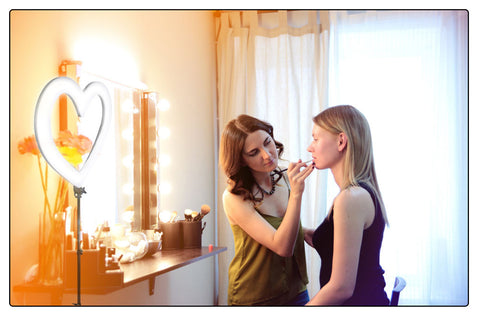 Ring lights allow cameras to focus on one subject, just like the eye does. These devices enable photographers and videographers to capture specific and particular details in the shoot.
OK, So What's New Here?
Developers have made tremendous progress in technologies. New ideas and innovations are coming out every day at an overwhelming pace. Some of these innovations are even breathtaking!
For instance, let us take a look at the changes regarding the LED selfie ring light. Many woke Youtubers and Vloggers, as well as various parties, are now shifting from the old ring lights to the new heart-shaped LED ring light with stand. This product is simply mind-blowing. There are a plethora of companies that manufacture these ring lights. One of the most exceptional ones is Pixco. It goes for about 103.99 USD.
Let us take a look at the Pixco RL-290 19" colorful heart-shaped LED ring light 48W 3200k-6000k 290 PCS bulbs with a remote stand kit.

 
Specifications 
Size: 49cm long, 44cm wide and 3.5cm thick.

Output voltage: 18V 3A.

LED external power: 48W.

Color temperature: 3200K-5600K.

Input voltage AC: 100V-240V.

USB charging interface: 5V, 2A.

The LED number: white 120pcs, warn 120pcs, and multi 50 pcs.

Color temperature/multi-color mode knob:

White/warn mode: Adjust color temperature 3200K to 5600K.

Multi-color mode: Adjust to red, green, blue, purple, yellow, cyan, low-speed color flash or high-speed color flash.
Features
Numerous features make this product to differ from its predecessors. Let's take a look at them.
It retains ambient light.

Its live broadcast is more beautiful.

It has a soft LED light.
These features allow it to hold some more advantages. Here are the details.
It is fit for a night scene shooting since it conserves the ambient light.

It is suitable for mobile phone life, makeup, video shoot, and many others. It is especially advantageous to vloggers and YouTubers.

The soft LED light helps to evenly distribute light, thus making it easy to illuminate and shoot any scene.

The heart-shaped LED ring light is not a cheap product. It would be a bummer if you had to rush to your seller often to buy a new product. It is, therefore, essential to take note of the things that you are obliged to do and those that you would want to avoid for you to be on the safe side.
Dos and Don'ts
When installing the lighting, ensure you follow the instruction manual to the letter.
Ensure you fix the lighting on the bracket.

Touching the plug with wet hands might lead to electrocution. Therefore, ensure you avoid doing so.

Switch off the device according to the manual. Refrain from pulling the power cord to turn off the power.

Ensure you use the ting lighting within the instructed voltage.
Conclusion
The heart-shaped LED ring light with stand will definitely not disappoint you given its performance as well as features that have been discussed which aim in the operation of the gadget. I know you want it! All you have to do is click here and start your trip of getting a perfect picture.