Are you preparing yourself to purchase a sound card? Is this process becoming confusing and tedious for you? Well, it's a good thing you`re here. We know the sound card that will meet your needs. It is a soundcard with multiple effects and features and has an inexpensive price tag; the Pixco Q7 live sound card. Read on to find out more!

Before we get started, let's see what a sound card is: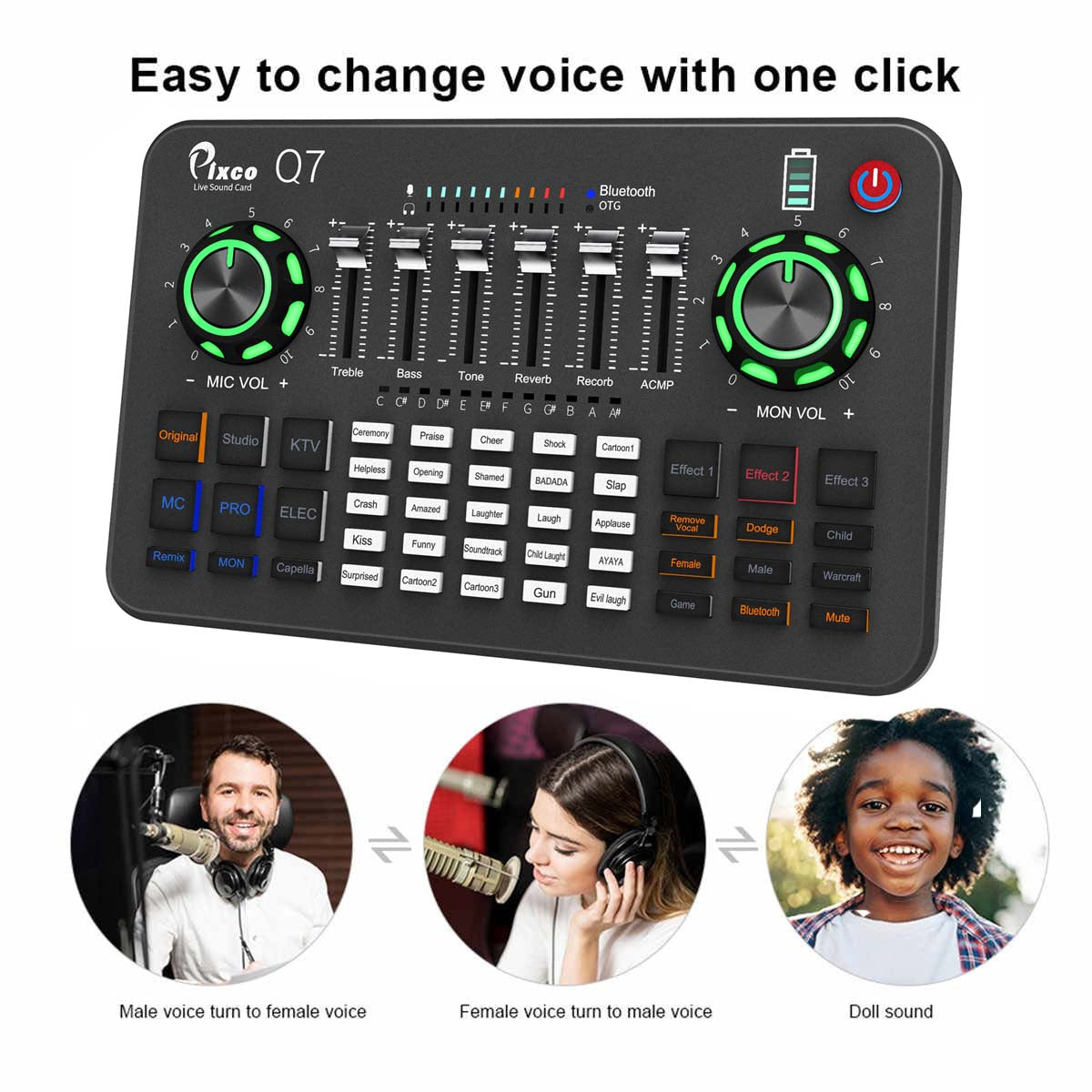 What is a sound card? 
This is an internal extension card that gives output and input of audio signals from and to a PC that's programmed. Also referred to as an audio card, the word sound card is also used for exterior audio interfaces utilized for pro audio apps.
The sound's functionality can be incorporated on the motherboard, utilizing mechanisms like those on plug-in cards. The incorporated sound system is typically also known as a sound card.
The hardware utilized for sound processing is also featured on contemporary video cards with HDMI functionality. In the past, they utilized a S/PDIF linkage to the sound card or motherboard.
Normally, the sound card uses include offering the audio element multimedia apps like editing video, composing music, audio, entertainment, education, presentation, and video output. Furthermore, they are utilized for computer-based communication like teleconferencing.
Why should you use a live sound card?
This tool is the focal point of your recording studio or PA system, offering audio outputs and inputs, routing abilities, and so much more! Buying the right one may be overwhelming, which is why we are encouraging you towards the Q7 live sound card. There is an overwhelming number of these products in the market. There are also lots of considerations such as format options, connection options, output and input configurations, just to mention a few.
So why do you require an audio interface? Your PC normally features an in-built soundcard. So why do you need another one? This tool is an audio interface; however, there is a lot to be done when working on any professional audio project. Standard and restricted connectivity significantly limits its efficacy in terms of mixing and recording music.
Most common in-built sound cards for PC only feature standard stereo line input for linking audio players and other similar equipment. When it comes to output, it will probably feature headphones or speakers.
Even if you're not recording professionally, the sound card for PC does not have adequate connections. To record, you will require an XLR input for the microphone and your guitar`s high-Z input.
Additionally, you will require high-quality outputs that will let you check on your sound editing and recording utilizing headphones/speakers. The output must let you play back the recording you've made without latency, jitter, or noise, which is common with PC built-in sound cards.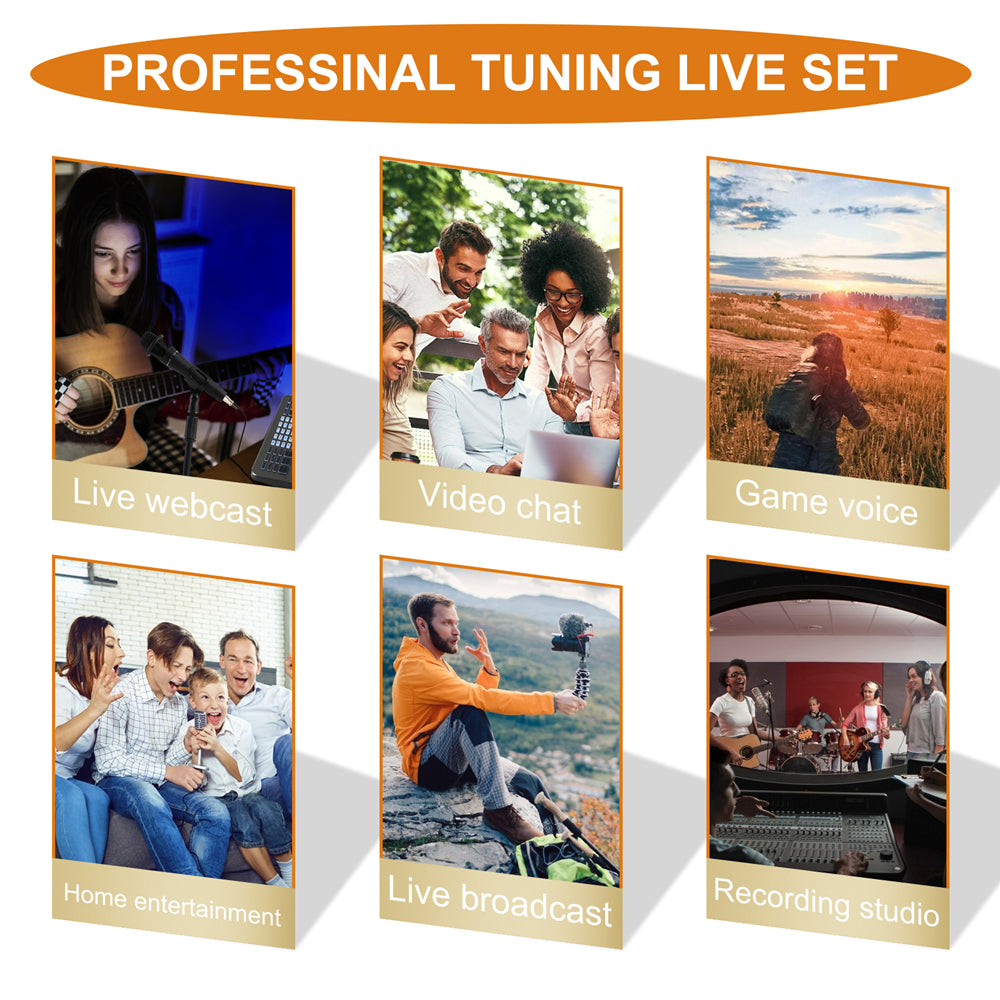 But why do you really need an audio interface?
There are various reasons you should use an audio interface rather than the standard in-built one on your PC. A sound card can also be referred to as an audio interface, though its restricted I/O and sound quality make it not-so-ideal for recording.
Most audio interfaces make it difficult to track a complete band and even drum kit since it features just two input channels. Sound cards are perfect for connecting hi-fi speakers and compressed audio playback, though you will require a dependable sound card for monitoring and recording high-quality audio.
Wondering what makes the Q7 sound card the best? Here`s why;
It has professional noise cancellation technology – with an in-built dual-chip for noise reduction; this sound card helps you avoid the disproportionate impact of current noise. This guarantees high-quality sound and helps you sing magnificent songs, as you work without any disturbances. What's more, the reverb (ECHO) makes your voice sound better.
Also, it features several effects and modes – the Q7 sound card has eight modes and sound transitions, three recordings, and 25 sound effects, and every one of these effects will give rise to a variety of surprises.
The sound changer can produce baby sounds, male and female voices. Besides, it also offers a pro voice changer, electro-audio, and simple switching. This Bluetooth audio sound card interface can change your voice into a man's or woman's voice, a magic sound, and an Ioli voice.
Furthermore, the multi-application features of the Q7 live sound card allow for performance on platforms such as karaoke, Tiktok, WeChat, voice chat, Livestream, Facebook, Periscope, Live, Smule, as well as other live platforms. You simply have to plug and play.
Moreover, you can do different anchors anytime, wherever you are, like an indoor anchor, outdoor anchor, YouTube, and video game anchors.
Sleek metal design makes this audio interface look stylish, and it is also scratch-resistant water and fingerprint resistant. The MC mode automatically tells apart the sound card and reduces the background music. Also, there is one key to eliminate the prime sound.
With the different modes, improving the quality of the tone, and the smart noise reduction, there is no better reason to get the best sound card. Again, this device has multi-device support. This makes it compatible with phone live, instrument input phone lives, computer synchronous live, computer accompaniment phone live, and one computer live.
The Q7 live sound card is excellent since it also supports Apple gadgets, computers, PS4, smartphones, and other games that could switch up your voice. To make it more interesting, it has a professional live broadcast with different modes that make your performance more fascinating. The adjustable electricity sound makes it possible to choose the appropriate sound and enjoy your time making music.
It also features Universal compatibility since it supports a wide array of devices such as mainstream living App, mobile phones, and computer live broadcasts. The Accura assessment is handy in making music which you can monitor using the headset and improve your rhythm efficiently.
Final word 
In the long run, the ideal audio interface will come down to the features it has to offer and the price; therefore, you will be pleased to know that this product is also affordable. It would help if you did your research properly before buying any product, and hopefully, this article has helped you see that the PIXC Q7 is the best live sound card to buy.