The aim of using a ring light is to get light onto a subject. Through this light, there will be fewer shadows on your face and reduce blemishes. This is why people nowadays use ring lights during video and photo shoots and in portraits when they want to focus on one subject.
The modern LED ring light built-in live sound card with stand kit is a new lighting tool with many benefits. For a greater understanding of its purpose and functionality, here is a list of this kind of ring light services that you can take advantage of.
There are so many ring lights in the market; however, the LED ring light with a built-in live sound is the way to go.
What makes this product unique is the built-in soundcard that gives you a chance to change sound and produce audios that are of high quality and up to standards.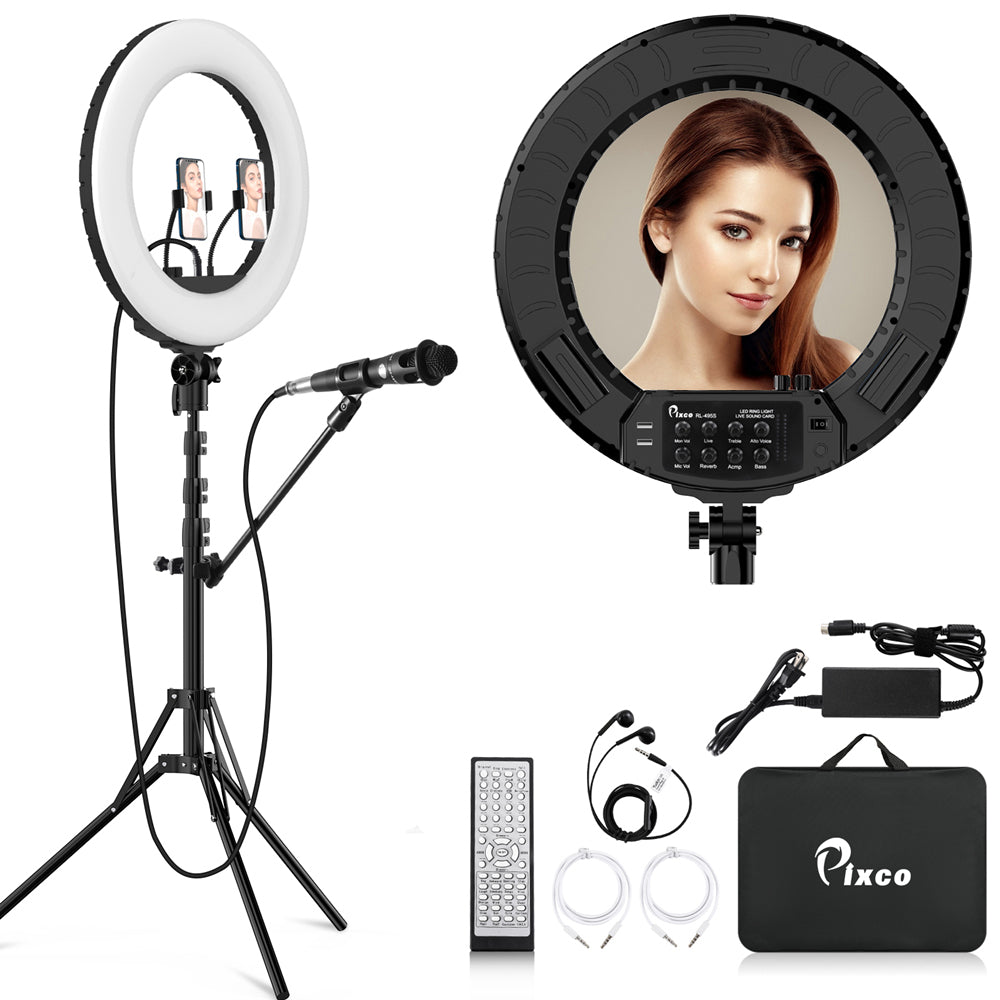 Features of the LED ring light with a built-in live sound card 
The built-in live cards automatically differentiate sound and decrease the background music. 

It has various modes that upgrade tone quality, reduces background noise, and a voice changer. 

An adjustable electricity sound enables you to choose the type of sound you like while enjoying quality time with family and friends. 

It makes your broadcasting more enjoyable and exciting. 

Diverse kinds of inflection: male voice, female voice, magic sound, and a baby voice 

Enables time monitoring; when you sing your songs, you can use the headset to monitor the rhythm effectively. 

Has universal compatibility. Supports various mobile phone broadcasts, mainstream live and computer broadcasts. 
Easy to set up
Content creators require photography pieces of equipment that are simple to operate and set up. This way, they will be able to create high-quality broadcasts whenever and wherever. A lot of ring lights in the market focus on appearance and forget about the audio. With this product, you will have all the features required to create top-notch content. 
Reduces shadows and unsightly highlights
Lovers of selfies and video will understand the importance of the LED ring light built-in live sound card is if you want to look good. If you are shooting in a not well-lit scene, chances are your selfie or video won't look good.
You will often find that dark conditions and overexposure are inevitable; however, you can reduce the chances with the LED ring light built-in live soundcard. Their unique shape helps diffuse the light in a balanced manner and make sure there are no unwanted shadows on your images or face.
The 'halo' eye effect can be achieved with a ring light.
A ring light is circular, which means it can produce a variety of circular effects. The ring light produces a halo eye effect. The LED ring light gives you a sparkle in the eye, which makes you outstanding in photographs. 
Multi usage
The LED ring light with a built-in live sound has multi usages. The ring shape helps to provide good lighting as needed and improves the quality of your pictures, videos which may include online teaching and makeup tutorials, etc.
When you are using this ring light, if you a content creator, your makeup will look even more beautiful, clear and amazing hence good quality videos.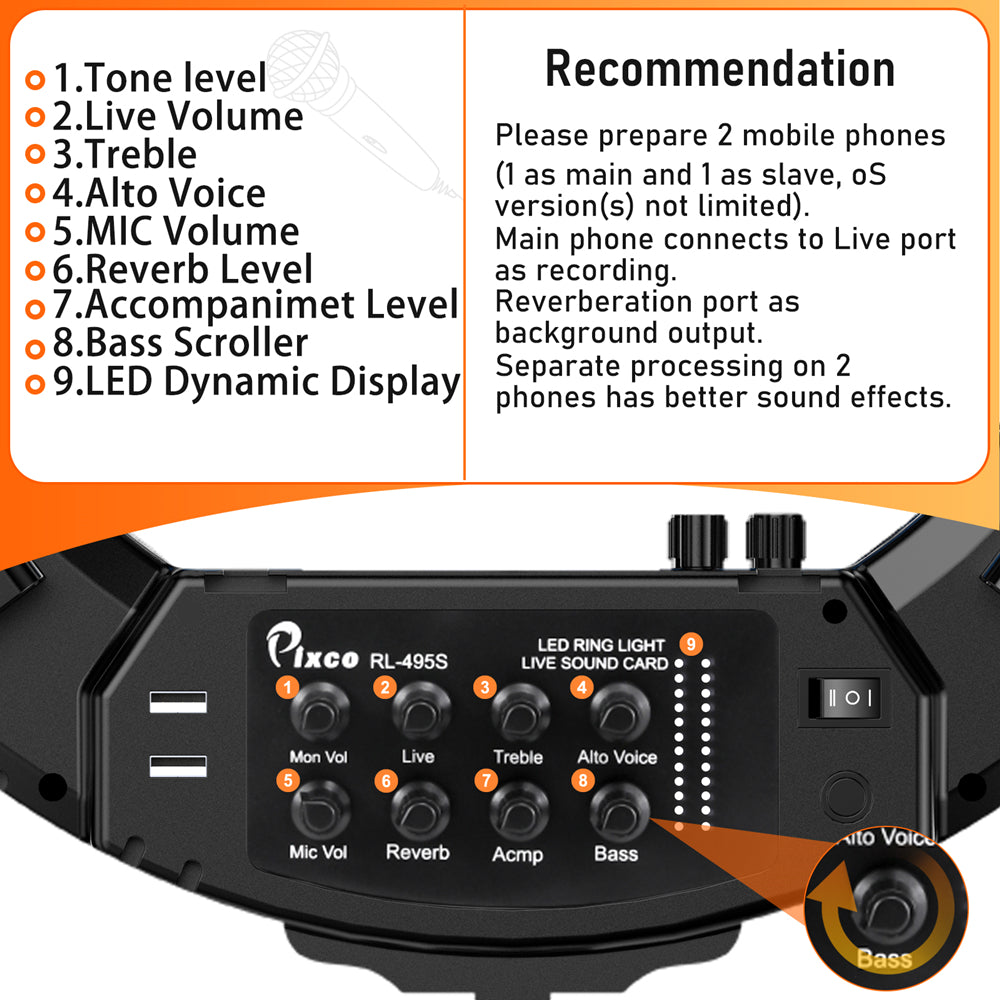 This LED ring light makes your studio look professional
If you want your videos and photos to look extra professional for your viewers or clients, using a ring light is an excellent way of enhancing your looks and the quality of your videos. This ring light will amplify your aesthetic. Most clients and viewers have heard about this LED ring light, and no doubt, they will be impressed when they see that you are using one in your studio.
Increases the chances of a better photography 
This LED ring light is popular because of its capability to complement a subject in a photograph. Professional Content creators prefer this kind of ring light in photoshoots and videography projects. Also, influencers and makeup artists prefer it because they can make great videos and photographs using this ring light. 
Useful in videography
Influencers tend to take both videos and photos. In the same way, you can use a ring light to take pictures; you can use it to bring high-quality videos. With the LED ring light, you can secure your phone or place your camera at the ring center to have quality videos.
It is so easy and convenient; all you have to do is clamp whatever you are using, might be a phone or a camera, hit the record button, and start recording your content. This ring light will automatically improve the quality of your video and make you look good throughout the video.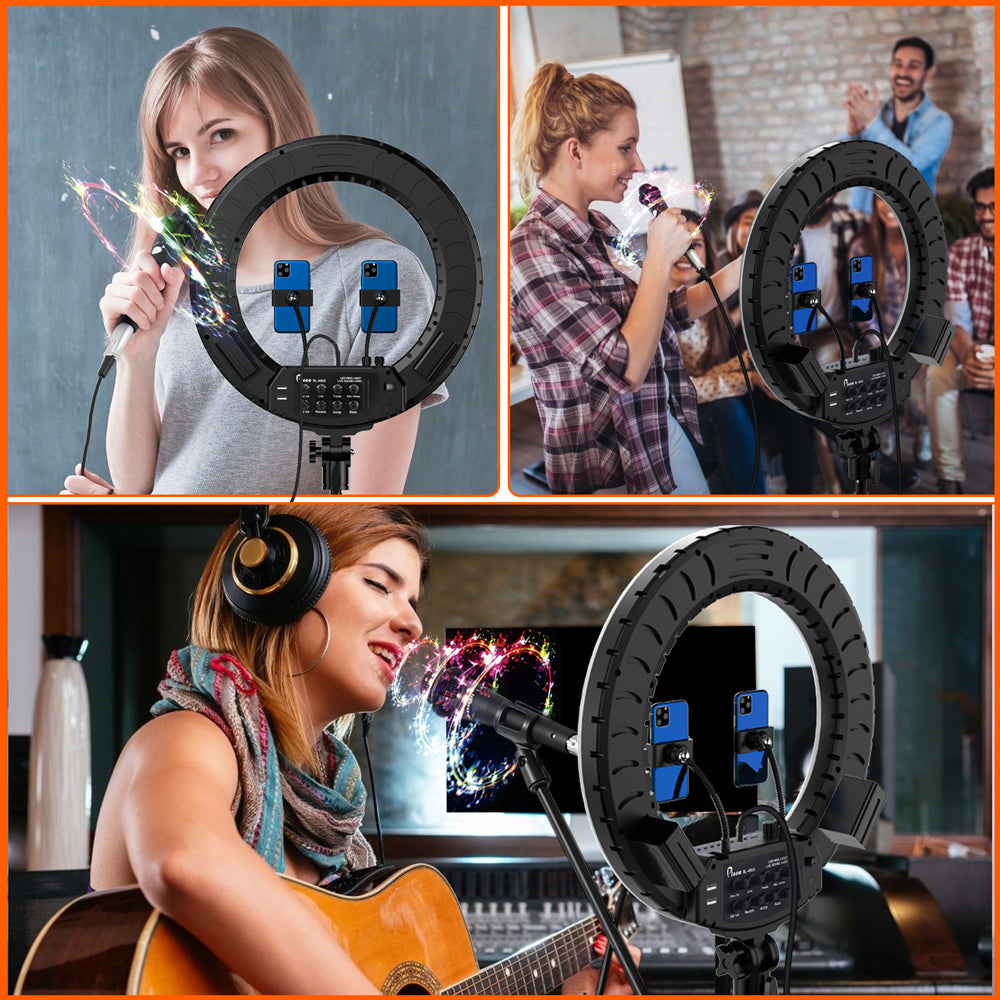 It can be used in any weather
There is no doubt that sunny days are the best for both selfies and videography projects. The sad news is that we don't have sunshine all three hundred and sixty-five days a year. Because of this, an LED ring light can come in handy when it is necessary to add warmth and brighten your pictures and videos.
This ring light embodies the sunny day effect and illuminates your work, including your projects and your face, whether you are shooting indoor or outdoor.
The ring light ensures that your lighting is consistent; you don't have to worry about the sun coming up or not.
Very easy to use
There are so many ring lights in the market today, with most of them being so complex to use. The LED ring light built in the live sound card has the simplest devices that are easy to operate. It has a simple charging system and can be turned on and off with just one click.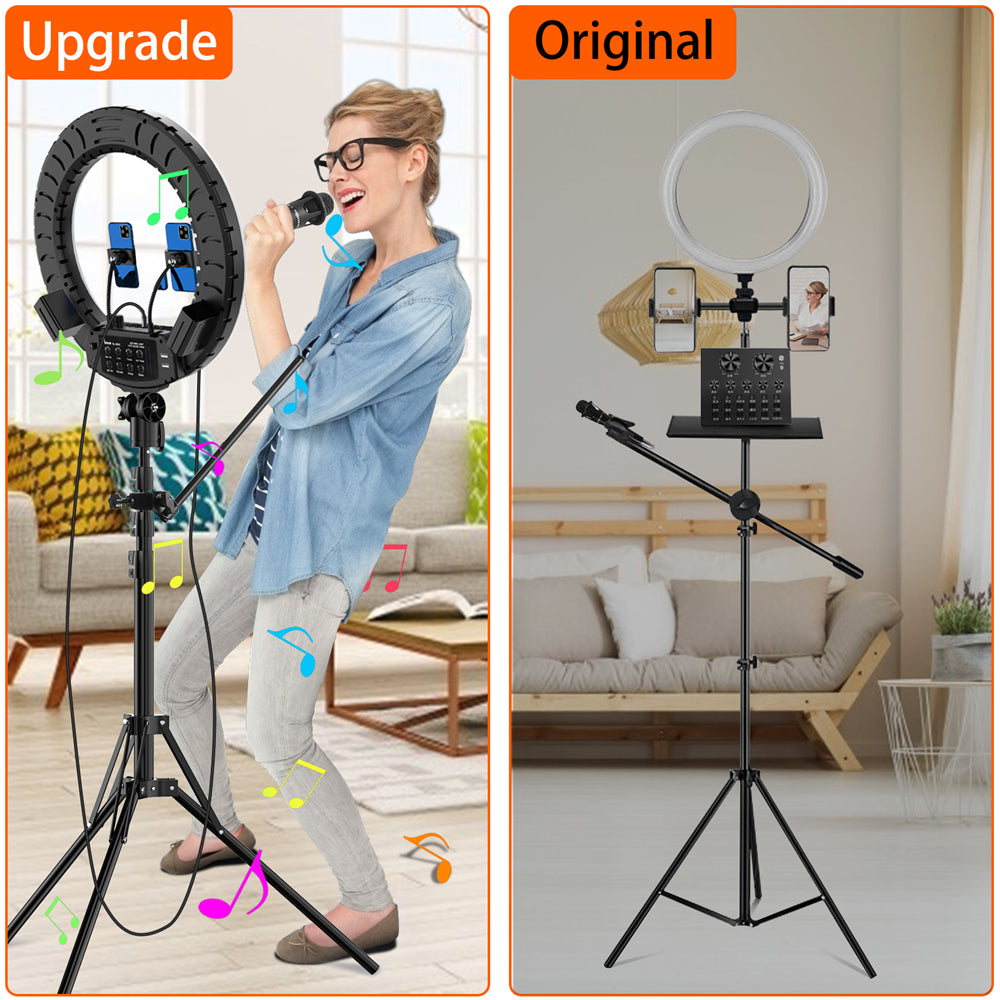 Conclusion
When you want to buy an LED ring light built-in live sound card, an important thing to remember is to get one that will not damage your eyes. Some ring lights don't have ultraviolet radiation, meaning they are absolute to use. Others give out low heat, and that means they can't cause you any injury or pain.